Resource Cards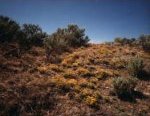 The Rattlesnake Hills in the Columbia Basin are part of the shrub-steppe ecoregion.

What is shrub-steppe?
Shrub-steppe is the largest natural grassland in North America. It extends from southeastern Washington and eastern Oregon, through Idaho, Nevada, and Utah, and into western Wyoming and Colorado. Shrub refers to the most abundant plant species that grows in this ecoregion. "Steppe" is a Russian word that means a vast treeless plain. In the Mid-Columbia Basin, shrub-steppe winters are cold and wet with strong winds and blowing snow. Summers are hot and dry with temperatures that can reach above 100 degrees Fahrenheit during the day, then cool at night. Here, less than 7 inches of rain falls per year.
What plants are common in the shrub-steppe?
The kind of plants that grow in a region is determined by many things, including climate and soil, geology and topography. Under natural conditions, shrub-steppe lands are covered with grasses and shrubs. The most common shrub, or woody plant, is big sagebrush. Other shrubs you probably have seen in our area, but may not have recognized, are rabbitbrush, greasewood, hopsage, bitterbrush, and buckwheat. They grow in communities with grasses such as bluebunch wheatgrass and Sandberg's bluegrass.
How do you tell the shrubs apart?
Rabbitbrush often is mistaken for sagebrush because both shrubs are medium sized, gray-green, frequently grow together, and bloom in late summer or fall. One way you can distinguish between them is to sniff a leaf. Rabbitbrush doesn't smell as strong as sage, and it has long, unlobed leaves. Sagebrush has three lobes at the tip each leaf. Also, rabbitbrush has large bright yellow flowers, while the flowers of sagebrush are tiny and inconspicuous.
Although identifying shrubs may seem confusing, you probably are familiar with some shrub-steppe wildflowers. Likely you have seen the bright yellow flowers and heart-shaped leaves of Carey's balsamroot covering Mid-Columbia hillsides in spring, along with rich displays of purple-blue lupine. In sandy areas, you also may have seen longleaf phlox climbing up through the branches of sagebrush.
What wildlife species are common in the shrub-steppe?
The shrub-steppe ecoregion supports a variety of birds, mammals, and reptiles/amphibians. More than 200 bird species and 30 kinds of mammals are known to live in our arid region. The types of plants that grow in the shrub-steppe determine the number and kinds of wildlife that can live here too. Wildlife depend on plants for food, concealment, protective cover, and for some species of birds, for nesting.
Some breeding birds that live in the Mid-Columbia are chukar, common ravens, black-billed magpies, Swainson's hawks, red-tailed hawks, horned larks, western meadowlarks, and burrowing owls. Mammals that make their home here include such species as elk, mule deer, bobcat, and black-tailed jackrabbit. The Great Basin pocket mouse and Townsend's ground squirrel also live here. These small mammals provide a source of food for badgers, coyotes, and nesting hawks. Less common in our area are reptiles and amphibians, though we do have side-blotched lizards and northern Pacific Rattlesnakes. Great Basin spadefoot toads have been seen near Rattlesnake Springs in the Rattlesnake Hills.
What is the future of shrub-steppe?
Until 100 years ago, shrub-steppe vegetation covered more than 200,000 square miles of the American West but, as a result of expanded human development, much native vegetation has been eliminated or fragmented, or the kind of plants has been altered by the invasion of non-native species such as cheatgrass, which European settlers accidentally introduced to our region. Although change is a natural part of landscapes, such a rapid change severely affected native wildlife of the region. Because so much of the shrub-steppe was converted to farmland and homesteads, soil erosion increased sharply, not only eroding the soil, but covering the land with blowing dust and increasing the amount of silt in local waters. Many animal habitats were reduced or eliminated.
In the Tri-Cities we are fortunate to have around us at least one area of relatively undisturbed shrub-steppe. The Fitzner/Eberhardt Arid Lands Ecology (ALE) Reserve on the Hanford Site harbors the last remnant of unspoiled sagebrush habitat in the state. Ironically, as a result of the area's isolation from human disturbances such as plowing and grazing, the area is a refuge for disappearing plants in Washington. The ALE lands are much the same as they were when Lewis and Clark first visited the Columbia Basin in 1805.


"Science is constructed of facts as a house is of stones. But a collection of facts is no more a science than a heap of stones is a house." Henri Poincare
Keep in mind this fact sheet is intended to be used only as background information to support your effort to encourage inquiry-based science, which parallels the way scientists uncover knowledge and solve problems.

1. Take a bike ride, a walk, or a drive.
In fall, flowering shrubs can be found throughout eastern Washington shrub-steppe lands. Yellow-blooming rabbitbrush and sagebrush are plentiful along the hiking and biking trail near the junction of Highway 182 and Road 68 near Pasco. A few bitterbrush shrubs also occur along the trail. Another good location is on Horn Rapids Road. In spring, the Rattlensake Slope Wildlife Recreation area east of Horn Road between Highway 240 and Benton City is a good place to see balsamroot, lupine, and phlox in bloom. For good birding locations in southeastern Washington and northeastern Oregon, see Howard Ennor's Birds of the Tri-Cities and Vicinity.
2. Keep a shrub-steppe journal.
Pick a certain favorite area of the shrub-steppe, say the Wahluke Slope, and observe it through the seasons. In a notebook, describe plant and animal life of the area. What is the climate like? the soil? How has the land been used? Note questions you may have about the area's topography, geology, or human habitation. Record your personal impressions of the place. What do you think about what you see? Return to the same place in May, August, November, and March. What changes have occurred?

Birds of the Tri-Cities and Vicinity, 1991. Howard R. Ennor, Lower Columbia Basin Audubon Society, Richland, Washington.
Bringing the World Alive: A Bibliography of Nature Stories for Children, 1995. The Orion Society, New York, New York.
Sagebrush Country, 1974. Ronald Taylor and Rolf Valum, Touchstone Press, Beaverton, Oregon.
Shrub-Steppe: Balance and Change in a Semi-Arid Terrestrial Ecosystem, 1988. W. H. Rickard, L.E. Rogers, B.E. Vaughan, and S.F. Liebetrau. Elsevier, New York, New York.
Shrub-Steppe Seasons: A Natural History of the Mid-Columbia Basin, 1995. Lee E. Rogers, Pacific Northwest Laboratory, Richland, Washington (Available at the Consolidated Information Libraries, WSU/Tri-Cities).
Vascular Plants of the Hanford Site, 1992. M.R. Sackschewsky, D.S. Landeen, J.L. Downs, W.H. Rickard, and G. I. Baird, Westinghouse Hanford Company, WHC-EP-0554, Richland, Washington (Available at the Consolidated Information Libraries, WSU/Tri-Cities).
Weeds of Eastern Washington & Adjacent Areas, 1972. Xerpha M. Gaines and D.G. Swan, Camp-Na-Bor-Lee Association, Davenport, Washington.


Initial development and printing of this fact sheet was funded by an Eisenhower Grant to the Partnership for Arid Lands Stewardship. Series Editor: Georganne O'Connor; Design: WinSome Design; Printing: Eagle Printing and Graphic Design; First Printing: October 1997; Web Development: WinSome Design.