Resource Cards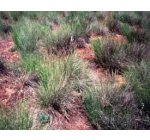 Bluebunch wheatgrass, a native plant, is the state grass of Washington.


What is a bunchgrass?
Bunchgrass is just what it sounds like, a perennial grass that grows in clumps (bunches of grass) and is common to the shrub-steppe region. Several species of bunchgrass grow in the Columbia Basin. The most typical species is bluebunch wheatgrass. This vigorous plant can reach 1 foot in diameter and grow more than 3 feet tall. Like all bunchgrasses in the Basin, bluebunch wheatgrass is called a "cool season" perennial, because its growth occurs mainly in spring and early summer when soil moisture is available.
In areas of the Basin with more moisture, such as at higher elevations of the Rattlesnake Hills, you also can see the generally smaller Idaho fescue on north-facing slopes. Where soil is sandier, needle-and-thread grass and Indian rice grass become more common, sometimes replacing bluebunch wheatgrass. These types of grasses can be seen around Horn Rapids Park or in the sand dunes north of Pasco. Needle-and-thread grass is so named because its seeds are sharply pointed and have a distinctive, long, thread-like structure called an awn attached to the back. Graceful Indian rice grass is named for the grain-like appearance of the individual seeds.
Sandberg's bluegrass is the most widespread, but least noticeable, bunchgrass in the Columbia Basin, rarely reaching 3 inches in diameter or 1 foot tall. Sandberg's bluegrass is the only bunchgrass in our area that typically is green in fall and whose leaves remain green in winter instead of going dormant. Because this bunchgrass stays green all winter, it can flower, set seed, and go dormant in early summer. These characteristics allow it to be relatively persistent, even in areas subjected to intense late spring and summer grazing or wildfire. Other common bunchgrass species include Great Basin wild-rye, Thurber's needlegrass, bottlebrush squirrel-tail, and Cusick's bluegrass.

How does bunchgrass grow?
Unlike the sod-forming grasses of the Great Plains, which grow from networks of roots called rhizomes (like most lawn grasses), bunchgrass grows as bunches of numerous tightly packed growing points. Individual leaves and flower stems grow from these points above the soil. Bunchgrass leaves die each year, but the plants regrow from the same root system and base (or crown) each spring. The older the plant, the more growing points it accumulates, and the larger the bunch becomes, some exceeding 1 foot in diameter.
Why is bunchgrass important?
Although areas still exist in Washington with extensive stands of native bunchgrasses, this is not true throughout most of the region. Within less than 50 years of livestock being introduced to the area, overgrazing by cattle and sheep eliminated, or nearly eliminated, native bunchgrasses from millions of acres. As a result, cheatgrass now dominates many areas, and plant and animal species have been lost. Native bunchgrass species are "better" for the ecosystem than non-native species, such as cheatgrass, for a number of reasons. First, a pure stand of bunchgrass has a lot of space between individual plants. Alternating plants and space creates good foraging, hiding, and nesting habitat for insects, birds, and small mammals. Such birds as vesper and grasshopper sparrows build nests under the overhanging edges of larger bunches, and ground-dwelling birds like sage grouse can hide from predators among the bunches. Bunchgrasses also are a more reliable, higher quality food for wildlife and domestic animals than cheatgrass.

"Science is constructed of facts as a house is of stones. But a collection of facts is no more a science than a heap of stones is a house." Henri Poincare
Washington is lucky to have several areas with relatively extensive shrub-steppe dominated by native bunchgrass. The two best areas are the Fitzner/Eberhardt Arid Lands Ecology Reserve (ALE) and the Yakima Training Center. The ALE Reserve contains over 40,000 contiguous acres of high-quality bunchgrass. The Training Center has well over 100,000 acres of high-quality shrub-steppe spread throughout its 325,000 total acres.

Take a trip. Visit the Rattlesnake Slope Wildlife Area along the Yakima River between Benton City and Richland. Lots of bunchgrasses grow there in areas of higher elevation. Examine the structure of a single bunchgrass closely. Is it dormant, growing, or flowering? Find the growing points. Also, notice how different the recently burned and cheatgrass-dominated grasslands on the lower slope are from the bunchgrass-dominated areas on the upper slopes. Another area to visit is the Bureau of Land Management Chandler Butte site on McBee Road near Benton City.
Grow a bunchgrass plant or garden. Seeds of native species are available commercially or can be collected. Bluebunch wheatgrass and Idaho fescue can be grown in a container or a home garden.
Learn to identify native species. Although grasses appear hard to identify, there are really only nine common bunchgrass species in the Columbia Basin. Go to the library or bookstore and find a grass identification guide to help you. Several books are listed below. You also could call the Columbia Basin Chapter of the Washington Native Plant Society (Dr. Steven Link, WSU-Tri-Cities, 100 Sprout Road, Richland, Washington 99352, 509-372-7000).

Celebrating Wildflowers: An Educator's Guide to the Appreciation and Conservation of Native Plants of Washington, Wendy Scherrer and Traci Johannessen, 1996. North Cascades Institute, Sedro Woolley, Washington.
Grasslands: An Audubon Society Nature Guide, Lauren Brown. Alfred A. Knopf, Chanticleer Press, New York.
Great Explorations in Math and Science (GEMS), University of California, Berkeley, California, School Yard Ecology (Grades 3-6).
North American Range Plants 4th edition, J. Stubbendieck, S.L. Hatch and C.H. Butterfield, 1992. University of Nebraska Press, Lincoln, Nebraska.
Natural History of the Colorado Plateau and Great Basin, Kimball T. Harper, ed., 1994. University Press of Colorado, Niwot, Colorado.
Sagebrush County - A Wildflower Sanctuary, Ronald Taylor, 1992. Mountain Press, Missoula, Montana.
Shrub-Steppe Seasons: A Natural History of the Mid-Columbia Basin, Lee Rogers, 1997. Pacific Northwest National Laboratory, Richland, Washington.

Botanical Society of North American - http://www.botany.org
Washington Native Plant Society - http://www.wnps.org
Celebrating Wildflowers Coloring Books - http://www.nps.gov/plants/color/

Initial development and printing was funded by the Partnership for Arid Lands Stewardship. Written by: Jonathan Soll, The Nature Conservancy of Washington. Series Editor: Georganne O'Connor; Design: WinSome Design; Printing: Eagle Printing and Graphic Design. First Printing: June 1998.