Resource Cards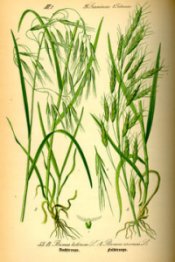 Cheatgrass is an alien grass common in disturbed areas of the shrub-steppe.


What is cheatgrass?
Cheatgrass is probably the most common plant in the shrub-steppe region of the Columbia Basin. The plant originated in Europe and Asia (Eurasia) and came to our area in contaminated seed in the 1890s. By 1920, cheatgrass, or downy brome as it also is known, was well established throughout the shrub-steppe and has been increasing ever since. Although you may not know this non-native grass by name, if you walk across the shrub-steppe in summer, you probably will recognize its sharp-tipped seeds, the ones you have to pull from your socks at the end of the day.
Cheatgrass is a winter annual grass. This means the plant usually germinates in fall and grows during winter. Mature cheatgrass can be as short as 1 inch or as tall as 2 feet. It is green in the fall and early spring when most native bunchgrasses are not. Cheatgrass can best be recognized during spring and early summer by its sometimes red, nodding flower heads with many dangling seeds. Areas in the Basin dominated by cheatgrass have a smooth appearance from a distance. Native grasslands, like some remaining patches on the Fitzner/Eberhardt Arid Lands Ecology Reserve and the Yakima Training Center, usually have a somewhat bunchy, irregular surface.
How does cheatgrass grow?
Annual plants like cheatgrass grow from a seed, then flower, set seed, and die every year. This is opposite of the cycle followed by common native perennial bunchgrasses. Because cheatgrass grows throughout fall and winter, by the time the rain stops in spring, cheatgrass already is maturing its seeds. Unlike native bunchgrassses, cheatgrass then dies by the end of July, avoiding the hottest and driest part of summer. This gives it an advantage over native grasses. Cheatgrass has other advantages as well. Because its seeds mature in early summer, they are safe from most wildfires. So, during a fire, cheatgrass seeds can take advantage of many nutrients the fire releases to grow large and produce abundant seed (over a thousand per plant in some cases). Then, when fire or heavy livestock grazing eliminates native grasses, cheatgrass tends to grab the newly open space and hold on. The south-facing slopes of Red Mountain near West Richland are a good example of how cheatgrass can take hold after fire.

Why is cheatgrass a problem?
Because cheatgrass quickly develops a large root system in the spring, by the time native grass seedlings start to grow in April or May, cheatgrass has stolen most water out of the top foot of soil. Although mature native grasses can get water from lower soil regions, seedlings cannot get their roots deep enough into soil to access water before drought sets in, and thus, die of thirst. Without this ability to reproduce, native grasses inevitably decline, and so over time, cheatgrass becomes more and more common until eventually it dominates. Cheatgrass also encourages fires. Because it dries up earlier in the year and burns easily, where cheatgrass is abundant wildfires occur earlier and more often, which damage or kill native grasses and make it impossible for sagebrush to grow back after fire. A decrease in sagebrush also means decreased numbers of native wildlife species because many shrub-steppe animals depend on this shrub for food, hiding, cover, or nesting.

"Science is constructed of facts as a house is of stones. But a collection of facts is no more a science than a heap of stones is a house." Henri Poincare
Of the 3 to 4 million acres of shrub-steppe that remain in the Columbia Basin ecoregion in Washington and Oregon, cheatgrass either dominates or is the common grass in from 2.25 to 3 million acres. Two areas of the ecoregion that have the biggest patches without much cheatgrass are the Fitzner/Eberhardt Arid Lands Ecology Reserve and the Yakima Training Center.

1. Take a long walk or hike.
You'll find cheatgrass almost everywhere you go in the shrub-steppe, including those sites listed below. Compare areas that have a lot of cheatgrass with ones that have little or no cheatgrass. Do you see differences in wildflowers and birds where there is cheatgrass? Notice that cheatgrass generally is more common on south-facing than north-facing slopes. Why?
For an area with little cheatgrass and lots of native bunchgrasses, go to the Bureau of Land Management (BLM)-owned Chandler Butte site on McBee Road near Benton City. Park in the small parking area and head east through native grasslands. Then, drive or walk to the top and compare the north- and south-facing slopes. Other areas to visit are north slopes within the Lt. Murray Wildlife Area near Yakima or north slopes in the Quilomene wildlife area near Vantage.
For an area with lots of cheatgrass, go to almost any small patch of shrub-steppe around the Tri-Cities, or to most shrub-steppe sites within wildlife areas and refuges around the state. For big open areas with lots of cheatgrass go to the BLM-owned portions of Red Mountain, and walk through the recently burned south slopes. Or, head to the Snake River, with its famous expanses of cheatgrass.
For an area with lots of mixed conditions go to the Wahluke Wildlife Recreation Area. There you will see old fields of almost pure cheatgrass and sand dunes with only a little.
2. Learn to identify native and non-native shrub-steppe grasses.
Contact the Columbia Basin Chapter of the Washington Native Plant Society (Dr. Steven Link, WSU-Tri-Cities. 100 Sprout Road, Richland, Washington 99352, 509-372-7000).
Identifying Cheatgrass by Season
Winter or early spring - Plants are smallest in winter and grow as a rosette (a circle of leaves on or near the ground). Look for the relatively broad, slightly hairy-leafed individual grass plants. If you pull up a plant you will still see the seed coat where stem and roots join. The only native bunchgrass green in fall or winter is the small Sandberg's bluegrass.
Mid-spring to summer - You will find the familiar nodding heads forming, turning red, then drying up. Notice that the bunchgrasses may have only just begun to flower when the cheatgrass is dead. Late in summer the seeds have fallen off the plants. Where cheat is common you can find seeds on the ground. Look for the pointy seeds on the soil surface and in cracks.
Fall - Look for seeds on the ground. Or, if it has rained recently, look for newly germinated seeds with a green sprout and roots.

Biological Invasions: A Global Perspective, 1989. J.A. Drake, ed., John Wiley and Sons Ltd., New York.
Celebrating Wildflowers: An Educator's Guide to the Appreciation and Conservation of Native Plants of Washington, Wendy Scherrer and Traci Johannessen, 1996, North Cascades Institute, Sedro Woolley, Washington.
Great Explorations in Math and Science (GEMS), University of California, Berkeley, California, School Yard Ecology (Grades 3-6).
Invasion of Bromus Tectorum L. into Western North America: An Ecological Chronicle, 1981. Richard N. Mack, Agro-Ecosystems #7, p. 145-165. (Available from Washington State University Library, Pullman, Washington).
Proceedings-Symposium on Cheatgrass Invasion, Shrub Die-Off, and Other Aspects of Shrub Biology and Management, E. Durant McArthur, 1990. United States Department of Agriculture, Forest Service, Intermountain Research Station General, Technical Report INT-276.
Sagebrush Country, Ronald J. Taylor, 1992, Mountain Press Publishing Company, Missoula, Montana.
Selected Noxious Weeds of Washington State, Benton County Noxious Weed Control Board, Prosser, Washington.
Shrub-Steppe Seasons: A Natural History of the Mid-Columbia Basin, Lee Rogers, 1997. Pacific Northwest National Laboratory, Richland, Washington.
Weeds of the West , Tom Whitson, ed., 1996. Pioneers of Jackson Hole, Jackson Hole, Wyoming.


Initial development and printing of this fact sheet was funded by an Eisenhower Grant to the Partnership for Arid Lands Stewardship. Written by Marilyn Fike; Series Editor: Georganne O'Connor; Design: WinSome Design; Printing: Eagle Printing and Graphic Design; First Printing: December 1997; Web Development: WinSome Design.